Trolley Mounted Fire Extinguisher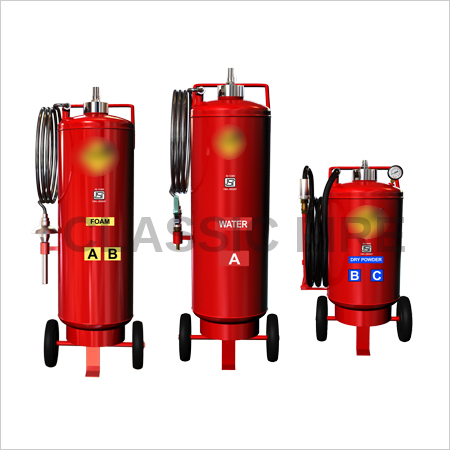 Trolley Mounted Fire Extinguisher
Price And Quantity
Product Specifications
Trolley Mounted Fire Extinguisher

Fire Protection
Product Description
We have emerged as one of the leading name engaged in offering of a wide variety of Trolley Mounted Fire Extinguisher. It has best use in sensor room, telephone exchange, chemical plant, computer operation, data processing equipment & shipyard(marine) system. Designed and manufactured with high precision using optimum quality components, this fire extinguisher is widely demanded in the industry. Precisely tested on various quality parameters, Trolley Mounted Fire Extinguisher is available in different sizes and finishes at industry leading price.
Product Overview
Highly mobile, these units permit a single operator quick access to extinguishing of fires that would normally require several operators with large hand portables. Dry Chemical Powder Trolley mounted Fire Extinguishers are specially designed for high performance and to achieve rapid Fire knock down. Trolley mounted extinguishers are suited for industrial, commercial and Domestic Fire protection needs.
KANEX Dry Chemical Powder Trolley mounted Fire Extinguishers are filled with Siliconized Sodium Bicarbonate/Potassium Bicarbonate based dry chemical powder with free flowing and non-caking additives which smothers fires in flammable liquids and pressurized gases gives, good for Class B & C protection with lower initial and recharging cost.
Technical Specification :

| | | | |
| --- | --- | --- | --- |
| Technical Specifications | 25 Kg | 50 Kg | 75 Kg |
| Discharge time | More than 30 Sec | More than 30 Sec | More than 30 Sec |
| Discharge Mechanism | Squeeze Grip Type Valve /Internal Gas Cart/External CO2 | Squeeze Grip Type Valve /Internal Gas Cart/External CO2 | Squeeze Grip Type Valve /Internal Gas Cart/External CO2 |
| Type of Extinguisher Media | Dry Powder | Dry Powder | Dry Powder |
| Range | Upto 6 Meters | Upto 6 Meters | Upto 6 Meters |
| Applicable on | CLASS BC/ABC | CLASS BC/ABC | CLASS BC/ABC |
| A Rating | 6A | 6A | 6A |
| B Rating | 144B | 144B | 144B |
| Certifications | Conforms to BIS Standards | Conforms to BIS Standards | Conforms to BIS Standards |
| Warranty | 1 Year | 1 Year | 1 Year |
| Refilling | 1 Year | 1 Year | 1 Year |