Mechanical Foam Fire Extinguisher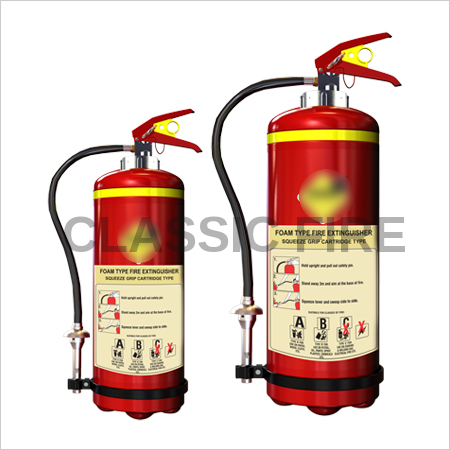 Mechanical Foam Fire Extinguisher
Product Specifications
Fire Fighting

Foam Fire Extinguisher
Product Description
In order to cater the variegated demands of our prestigious customers, we have come up with a wide range of quality assured Mechanical Foam Fire Extinguisher. This fire extinguisher is valuable for using for fires in paper, wood, plastics etc. It is ideal to be used in commercial and industrial fire safety & fire safety of homes and cars. In addition to this, Mechanical Foam Fire Extinguisher is highly admired for its excellent performances as well as highly economical rates.
Size Variants : 6 /9 ltr.
Foam Fire Extinguishers are useful for Class A & Class B fires involving flammable liquids such as Paints, Solvents and fats like Grease and Oils.
Product Overview
Most Foam extinguishers have a very complex activation mechanism. They require the user to cut a metal seal with pliers, shake the extinguisher vigorously, turn it upside down and bang it on the floor to activate it. All this in the midst of a fire
Foam extinguishers, on the other hand, use the squeeze grip mechanism, making them faster and easier to use. The proprietary stored pressure technology also delivers high power throw, making these extinguishers extremely effective.
The quickest way to kill a fire is to not let it feed off the oxygen in the vicinity. Alternate Range of Foam based extinguishers use a chemical foam that blankets the flames and cuts off the oxygen supply. While they are effective against Class A and B fires, they are ideal for use on burning liquids like oil and petrol.
Technical Specification :

Technical Specifications : 6 Ltrs : 9 Ltrs
Gross Weight : 9.30 kg : 14.30 Kg
Empty Weight : 3.30 kg : 5.30 kg
Discharge time : Approx.26 Secs : Approx.40 Secs
Discharge Mechanism : Squeeze Grip Type Valve : Squeeze Grip Type Valve
Type of Extinguisher Media : Water & Foam : Water & Foam
Range : Upto 2 Meters : Upto 2 Meters
Applicable on : Class A & B : Class A & B
Ratings : 2A, 34B : 3A, 55B
Certifications : Conforms to BIS Standards : Conforms to BIS Standards
Warranty : 1 Year : 1 Year
Refilling : 1 Year : 1 Year