CO2 Fire Extinguisher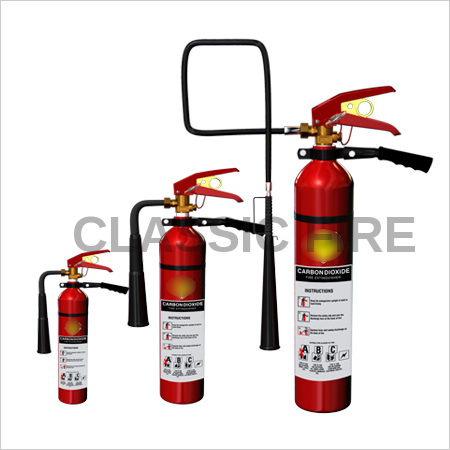 CO2 Fire Extinguisher
Product Description
With the assistance of our team of professionals, we are engaged in providing an assorted range of CO2 Fire Extinguisher that is used for class B and C fires. It contains carbon dioxide, a non-flammable gas, and is highly pressurized. The offered product is effective for offices, petrol stations, chemical labs etc. Corrosion resistance, high strength, compact design and elevated durability are features of offered fire extinguisher. This CO2 Fire Extinguisher is available in varied sizes as per the specific requirements of customers.
Size Variants : 2 / 4.5 Kg
CO2 extinguisher is perfect for Electrically started fires.
Product Overview
A typical CO2 extinguisher weighs a staggering 18.5 kgs, making it extremely difficult to carry and operate. CO2 is also stored at very low temperatures, often causing freeze burns on the users hands in the process of activation.
The revolutionary new squeeze grip activation, removes all risk of freeze burn, and ensures that the user can rapidly put the extinguisher to use against a fire.
An ergonomically designed handle at the center of the extinguisher distributes the load evenly to the key arm muscles, making the extinguisher easier to carry.
Technical Specifications :

| | | |
| --- | --- | --- |
| Technical Specifications | 2 Kg | 4.5 Kg |
| Gross Weight | 8.25kg | 16.02kg |
| Empty Weight | 6.25kg | 11.50kg |
| Discharge time | Approx. 11 Secs | Approx.10 Secs |
| Discharge Mechanism | Wheel Type Valve | Wheel Type Valve |
| Type of Extinguisher Media | CO2 Gas | CO2 Gas |
| Range | Upto 2 Meters | Upto 2 Meters |
| Applicable on | B,C and electrically started fires | B,C and electrically started fires |
| Ratings | 13B | 34B |
| Certifications | Conforms to BIS Standards | Conforms to BIS Standards |
| Warranty | 1 Year | 1 Year |
| Refilling | 1 Year | 1 Year |