Clean Agent Fire Extinguisher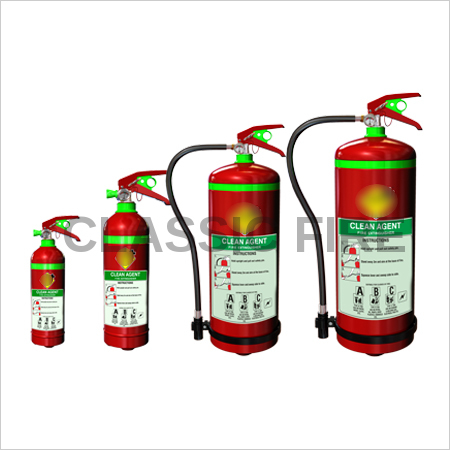 Clean Agent Fire Extinguisher
Product Description
We have marked a distinct position in the market by offering an excellent quality range of Clean Agent Fire Extinguisher. The offered fire extinguishers is ideal to extinguish the fire caused due to petroleum products, short-circuits and other conditions. Ideal for refilling of hydrants, offered fire extinguisher is known for its longer working life, anti-corrosive body, easy to hold and usage. In addition to this, offered Clean Agent Fire Extinguisher can be purchased from us at market leading rates.
Size Variants : 1/2/4/6/ KG.
Clean Agent Stored Pressure Fire Extinguishers are environmentally safe and ideal for protecting delicate electronic equipment as the clean agent leaves no residue and also intended for the protection of facilities typically, the areas that contain sensitive or irreplaceable equipment or collections which could be damaged or destroyed by water, foam, dry chemical, or carbon dioxide.
Product Overview :
HCFC BLEND E STREEMING AGENT ( NAF PIV ) " CLEAN GAS " which leaves no residue, hence no collateral damage to the equipments
NAF PIV CLEAN AGENT GAS IS listed under USA Signification New alternatives Policy ( SNAP)
NAF PIV is approved by USA EPA ( Environmental protection agency )
NAF PIV CLEAN AGENT GAS IS listed under USA Signification New alternatives Policy ( SNAP)
NAF PIV is approved by USA EPA ( Environmental protection agency )
Technical Specifications :

| | | | |
| --- | --- | --- | --- |
| Technical Specifications | 2 Kg | 4 Kg | 6 Kg |
| Gross Weight | 3.5 Kg | 6.30 Kg | 9.49Kg |
| Empty Weight | 1.50 Kg | 2.30 Kg | 3.49Kg |
| Discharge time | Approx.12 Secs | Approx.14 Secs | Approx.21 Secs |
| Discharge Mechanism | Squeeze Grip Type Valve | Squeeze Grip Type Valve | Squeeze Grip Type Valve |
| Range | Upto 2 Meters | Upto 2 Meters | Upto 2 Meters |
| Type of Extinguisher Media | Clean Agent Gas | Clean Agent Gas | Clean Agent Gas |
| Applicable on | Class A,B,C and electrically started Fire | Class A,B,C and electrically started Fire | Class A,B,C and electrically started Fire |
| A Rating | 1A | 1A | 1A |
| B Rating | 13B | 21B | 34B |
| Certifications | Conforms to BIS Standards | Conforms to BIS Standards | Conforms to BIS Standards |
| Warranty | 3 Year | 3 Year | 3 Year |
| Refilling | 1 Year | 1 Year | 1 Year |
Contact Us
72, Gupta Colony, G.T. Road Ghaziabad Uttar Pradesh India +918045800044
Phone :+918045800044